RPET 300X600D PINK SEAQUAL FABRIC WATER RESISTANCE FOR BACKPACKS AND UPHOLSTERY
IGO Textile is a professional recycled PET polyester fabric manufacturer in China. RPET 300 X 600D seaqual fabric is made of 50% RPET from water plastic bottles and 50% SEAQUAL® YARN. It is plain interwoven by 100% recycled polyester blended with SEAQUAL yarn.RPET 300 X 600D seaqual fabric is ideal for backpack, travel bags, suitcases, schoolbags, pen bags and accessories.  The colour is pink or tailor-made dyed, and the treatments is PU coating one time. You can also choose dye it in any Pantone color you need. The fabric roll is 150cm wide and light weight in 220 gsm. This kind fabric have bright beautiful Color, thickness is moderate,has the function of  waterproof and not easy to deform. By purchasing it you make your efforts to fight marine plastic pollution. We will help you develop your market by the leading edge of applying latest green materials on your products. With its fashionable appearance, fine texture and good water resistance, the bags made of this fabric are sought after by many fashionable, and have become the new favorite in the Market at present.
SEAQUAL Textile Certification No.:SY050WV2200139
Name             : RPET 300X600D PINK SEAQUAL FABRIC WATER RESISTANCE FOR BACKPACKS AND UPHOLSTERY, SEAQUAL FABRIC
Model no.       : MR-P2209-01
Material          : polyester, Upcycled Marine Plastic
Composition    : 50% SEAQUAL YARN + 50% RPET
Specifications  : poliester 300X600D, Full Dull, standard DTY yarn
Colour            : Pink or tailor-made dyed
Treatments       : PU coating one time
Features          : plain woven, seaqual fabric, poliester 300X600D
SEAQUAL logo : hang tags available when order
Width             : 150 cm
Weight            : 220 gsm
IGO Textile is an innovative company of eco-friendly fabric solutions.
We are the professional SEAQUAL fabric supplier in China. SEAQUAL fabrics made and supplied from us must contain a minimum of 20% of SEAQUAL® YARN, except in  denim where the minimum requirement is 15%. All of our SEAQUAL Fabrics are sold and supplied with their unique SEAQUAL Textile Certification Numbers, which are certified by SEAQUAL LAB.
SEAQUAL® YARN contains approximately 10% Upcycled Marine Plastic (from plastic marine litter),the remaining 90% is post-consumer PET from land sources. Plastic retrieved from our oceans, beaches and estuaries is converted into a new, fully traceable raw material that has the power to raise awareness of the problem of marine plastics and working
hard to solve it. In choosing products containing Upcycled Marine Plastic you are helping to end plastic pollution.
We accecpt OEM orders for both woven fabrics and knitted fabrics. These SEAQUAL fabrics can be manufactured in designated color and with required after-finishing as well.
Our company has the export license and is able to ship our SEAQUAL fabrics to your country by sea or by air.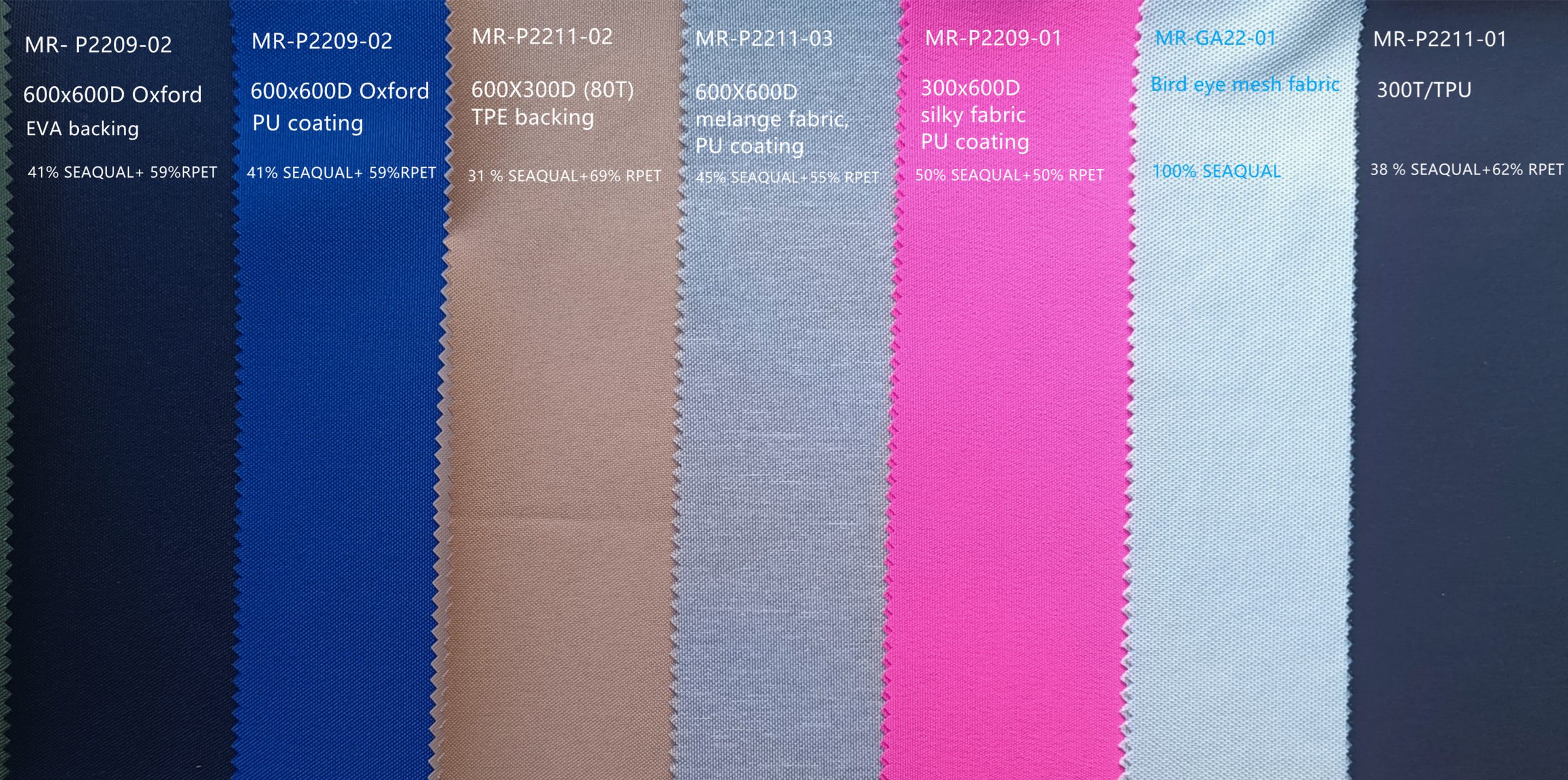 There are no reviews yet.