What is recycled nylon fabric
Recycled nylon is made from nylon waste from products that have already been manufactured, sold, used, and then discarded by consumers. It can also be made from the waste that's left over during the processes where nylon is made into a product. Environmental protection, regeneration and recycling have become hot words in many industries.
Recycled nylon, a material that can be recycled infinitely, was developed by "Aquafil", an Italy Artificial fiber company in 2011. At that time, only 70% of the raw material of this product came from recycled materials, so early has been become ECONYL 70. Under the unceasing improvement, renewable nylon already can 100% from recyclable materials. Recycled nylon is generally produced by smelting and granulating nylon yarn, nylon silk or nylon fabric. The recycled nylon material produced by nylon yarn, nylon silk or nylon fabric has lower impurities. The impurities of recycled nylon material granulated from block material and product crushing material are relatively high.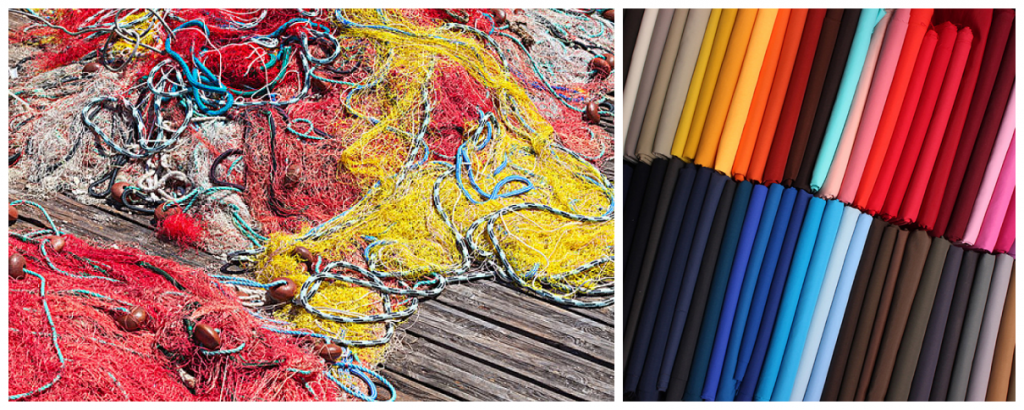 Recycled nylon materials is made from waste nylon products, pre-consumption textile waste and industrial plastics, as well as post-consumption waste, including used carpets and fishing nets, ultimately make up the material. The waste nylon will be classified into early stage treatment, stirring, and then again into the factory system, to synthesize into particles, finally processed into nylon 6 yarn, Recycled nylon has the same properties as conventional nylon and can completely replace conventional nylon 6. Recycle nylon this versatile, sustainable nylon yarn can be recycled and recycled indefinitely. In addition, compared with the traditional nylon production process, the recycled nylon production process not only saves 70,000 barrels of crude oil for every 10,000 tons of raw material produced, but also saves 65,100 tons of CO2 missions. The advantage of applying recycled nylon instead of conventional nylon is that it can reduce global warming by 90%, which has a positive impact on the environment.
A large part of the Recycled nylon produced comes from old fishing nets. This is a great solution to divert garbage from the ocean.As locating in a beautiful seaport city – Xiamen, definitely IGO Textile is very concerned about ocean pollution. So we noticed recycled nylon, we were very happy to find a global partner on fighting garbage from the ocean pollution, recycling PLASTIC MARINE LITTER. We need to change our approach radically. With the comprehensive menu of green solutions in the industry, we are supporting our customers to achieve their environmental goals.
Cohabiting with nature in the best possible way and considering the importance of a limited resource such as water, these products should not be destined for the landfill. Pre-consumer waste material, which comes from industrial processes, includes scraps of material in a factory that would have otherwise been down cycled, downgraded or sent to a landfill. The recycled nylon fiber subverts the traditional source of raw materials, uses local materials, makes comprehensive use of waste resources, endows the fiber with "second life", and produces new functional fiber comparable to the original quality.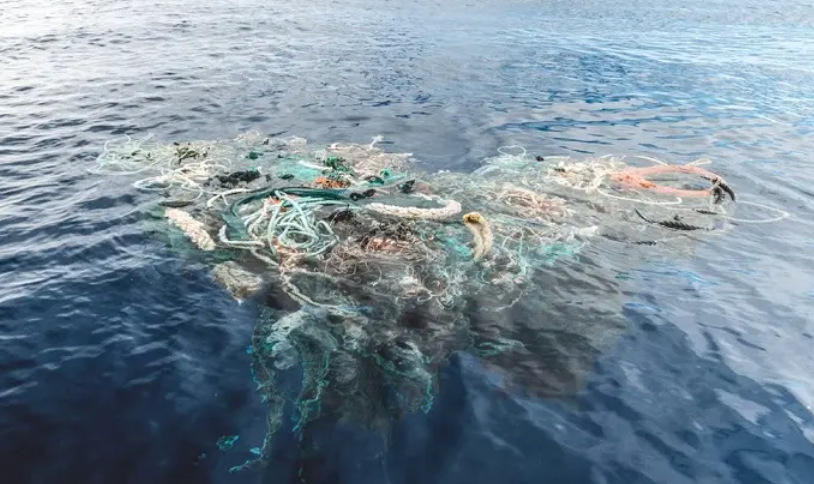 How is recycled nylon fabric made?
The raw material of recycled nylon comes from discarded nylon products, such as old carpets, old fishing nets and Marine debris. The discarded nylon is first sent to a primary treatment site, sorted, cleaned, crushed, and then sent to a factory for decomposition, reprocessing, re-synthesis into new particles, and finally processed into nylon 6 yarn.
The manufacturing process of recycled nylon 6 fiber is characterized by the following steps:
Step 1. the nylon 6 waste is crushed;
Step 2. In the closed stirring container, add the catalyst and the mixed solvent of ethanol and dichroethane, stir and dissolve for 4-5h at the temperature of 100-150℃;
Step 3. After the dissolution of the solution to filter the dissolved solids;
Step 4. At a certain temperature, the nylon 6 in the filtered solution is cooled and crystallized into nylon 6 solid;
Step 5. the nylon 6 solid in 100-120℃ oven drying for 3-4h, so that the moisture content is less than 5%;
Step 6. Add plasticizer, antioxidant, lubricant, heat stabilizer, anti-hydrolysis agent, nucleating agent and chain extender to the dried nylon 6 solid to obtain the mixture;
Step 7. Melt spinning the mixture in step 6 to obtain the regenerated nylon 6 fiber.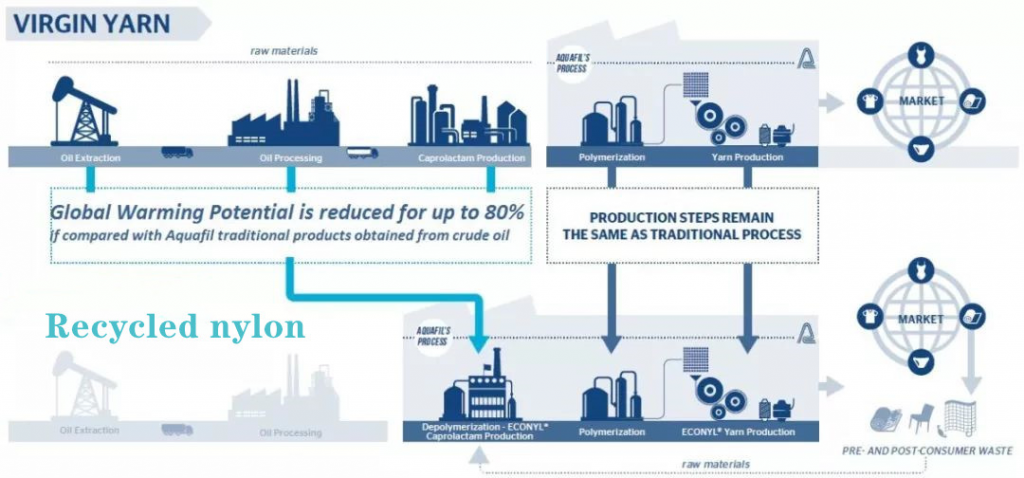 Recycled nylon fabric features
Recycled nylon yarn, as a premium ingredient for the production of some of their high-end nylon fabrics, guaranteeing the same performance of those made of standard polyamide. Recycled nylon fabric have Good mechanical toughness, high strength, high compressive and tensile strength, high softening and heat resistance, good electrical performance, good electrical insulation. Nylon volume resistance is higher, resistant to impact, in the dry environment, can work insulation material, even in high humidity environment, still has good electrical insulation. Fatigue resistance outstanding, parts after many times, repeated twists and turns can still maintain the original mechanical strength. And it has good corrosion resistance, very alkali resistance, but also resistant to oil, weak acid, gasoline, etc., but not resistant to strong acid and oxidant.  The parts are light in weight, easy to dye and easy to form, smooth surface, small friction coefficient, wear resistance, self-extinguish, odorless and non-toxic, good weather resistance, lazy to biological erosion, good antibacterial and mildew resistance.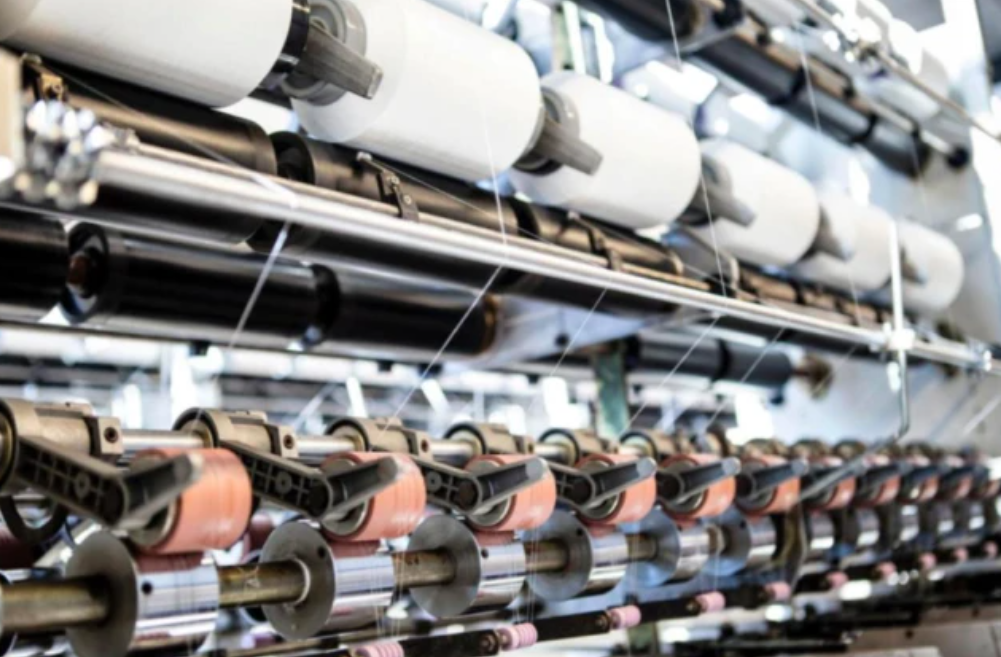 Most mechanically recycled materials are melted at high temperatures, this process destroys contaminants and transforms the material into a reusable form. However, nylon melts at a much lower temperature, leaving contaminants behind. As a result, it must be thoroughly cleaned before being recycled. Recycled nylon fabric can be recycled indefinitely, and does not affect the quality of the material. Incorporating as much recycled nylon fabric as we can lessens our dependence on virgin petroleum as a raw material source, helps eliminate discarded material and reduces greenhouse gas emissions from manufacturing. Using recycled nylon fabric also promotes new recycling streams for nylon products that are no longer functional.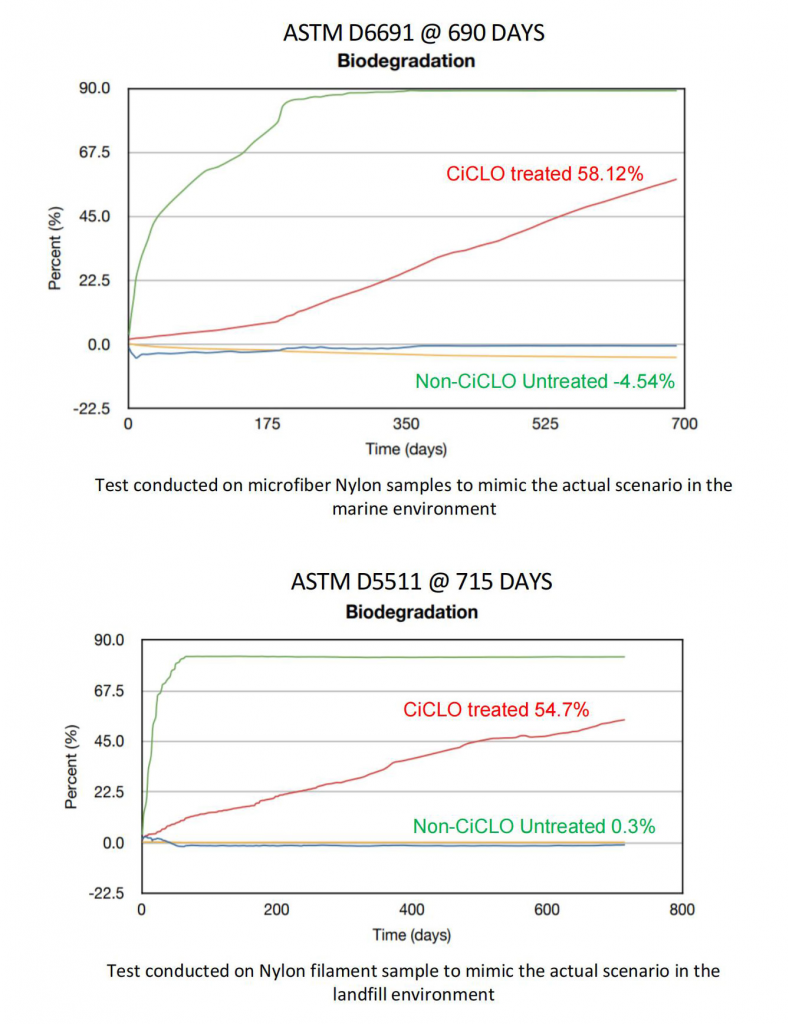 The above biodegradation studies are conducted and validated by an independent 3rd party laboratory using internationally recognized ASTM (American Society for Testing and Materials) test methods. Laboratory studies represent optimal conditions. As with all materials, the actual rate and extent of biodegradation of CiCLO® fibers are dependent upon individual conditions in actual environments.
The tests show that new recycled nylon has 54% biodegradation in 715 days under ASTM D5511 conditions (accelerated landfill environment); 58% biodegradation in 690 days under ASTM D6691 conditions (accelerated marine/ocean environment). The stated rate and extent of degradation do not mean that the product will continue to degrade.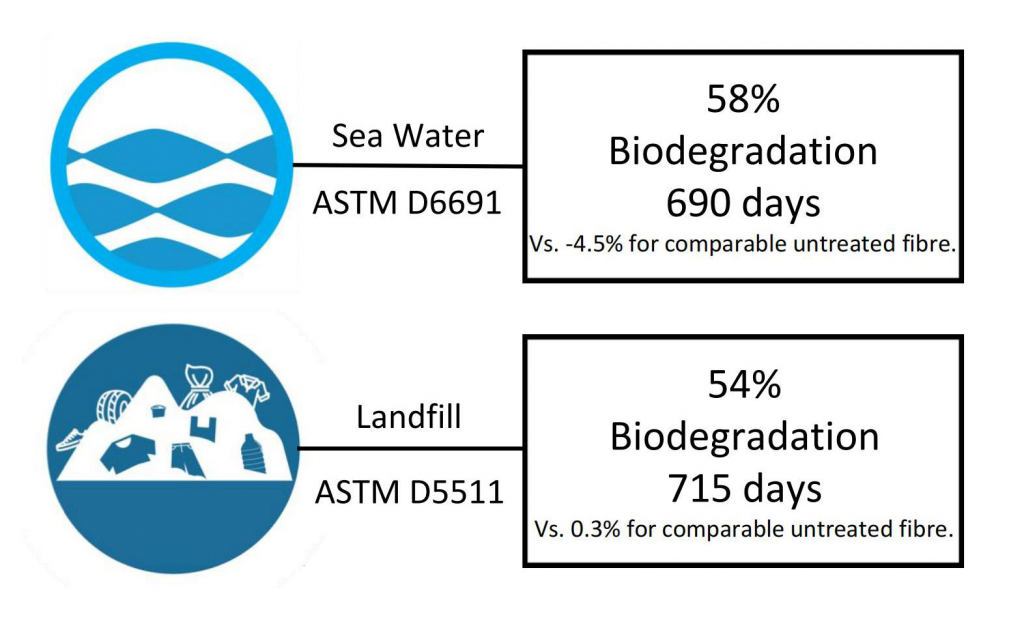 Data shows biodegradation rate and extent of CiCLO® vs non-CiCLO® Nylon microfibers and fabric in two environments where textiles are prolific pollutants.
Non-CiCLO® Nylon samples do not show significant biodegradation in the tests.
Tests are a point in time and will continue.The ability of an article to be broken down physically and/or chemically by naturally occurring micro-organisms, results in the production of basic neutral substance including carbon dioxide, methane, water, minerals, and new microbial cellular constituents(biomass).
The application of recycled nylon fabric
Recycled nylon fabric is a sturdy fabric used to make lots of different types of bags, including backpacks, duffel bags, handbags, and cross body bags etc., also can be widely used in home textiles, such as bedding curtains, kitchen, and wiping tablecloths etc. At the same time, recycle nylon fabric also processes some mechanical products, such as car sofa and so on.  In many ways, it's the ideal fabric choice for a bag or other items, as it stands up to lots of wear and tear, it's moisture resistant, and it's easy to keep clean. And those are just a few of its many qualities.
What are the identification methods of recycled nylon fabric?
Firstlook at the luster, the material is the corresponding difference in luster.
Look at the cut surface. Cut surface is not one, the material is poor.
look at the forming, the surface forming is not good-looking, uneven, with fiber, is the difference.
burn with fire, burn non-flammable, add flame retardant. Or wave fiber more than 30%. Is poor.
After the burn is out, smell, 6,66. Not much difference. If it is too far away from the new material, the material quality is also correspondingly far away.
6.drawing, can pull but the silk does not shrink 6, the contraction is 66, can not pull the silk is poor material.
in the combustion of foaming to remember, is the foaming material to modify again, will have an impact, should pay attention to this material is not good.
There are composite materials in some materials. Please check more when you see the large version. Mainly by smell.
some materials have high temperature material, please buy is as far as possible to take some test machine, because the melting point of high temperature material and ordinary material is different, in the production may block the machine, is poor material.
How to choose recycled nylon? What are the factors that affect the value of recycled nylon?
Due to the color, performance and purity of nylon after regeneration, the price of recycled nylon particles is uneven, mainly in the following aspects:
1、Color is a factor that affects the price of recycled nylon.The narrower the applicability of the color, the lower the valuation. For example, the same PA6 waste silk, the extinction price is lower than the light, the color price is lower than the original color, and the price of more black dots is lower
2、The properties of the fabric are also a factor in the price of recycled nylon, poor performance of the material, the scope of application is narrow, the price will be low. Especially for materials with low composite detection performance, remodification will also have more or less defects.
3、The stability of recycled materials is a very important consideration. For the same grade of materials, the modification factory is willing to pay a higher price to purchase batches.
4、Scarcity is also a factor that affects prices, such as aromatic nylon, carbon fiber nylon, flame retardant nylon and other recycled nylon materials, may be directly used for injection molding, can obtain higher prices, but relatively fewer customers.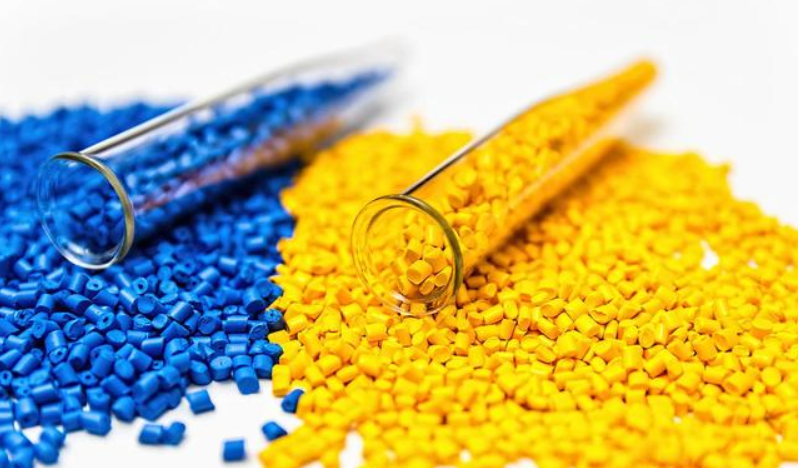 The differences between Recycled nylon and Recycled polyester
Recycled polyester staple is the use of polyester fabric, waste polyester bottle flakes, spinning waste, bubble material, raw material, pulp lump do waste bottle after crushing, washing, a mixture of all kinds of materials after drying, melting extrusion, spinning, winding, cluster, drafting, crimp (at the same time according to the customer's demand in curly when adding different agent), relaxation heat styling, After cutting, polyester staple fibers of different lengths are formed. It has high strength and toughness, good light resistance, poor dyeing, but good color fastness, not easy to fade, good wear resistance and so on.
Recycled nylon is made from pre-consumer factory waste, carpets, post-consumer textiles, fishing nets, life preservers and Marine plastics, which can be recycled repeatedly and the quality will not change after recycling. Recycled nylon has good wear resistance, heat resistance, oil resistance and chemical resistance, but also greatly reduce the water absorption rate and shrinkage rate of raw materials, with excellent dimensional stability and excellent mechanical strength.
The advantages of Recycled Nylon
Recycled nylon fibers are tightly woven together and are a strong and durable material. And it's lightweight, although nylon is strong, it is very light, which is another reason why it makes such an excellent wrapping fabric. In addition, like original nylon, recycled nylon is elastic, which allows it to spring back to its original shape when bent, pulled or bulged.
Recycled nylon is waterproof and it doesn't absorb water, so even if it gets a little wet, it dries quickly.
And it's easy to shape, and bag manufacturers like recycled nylon because it's easy to shape. It can be perfectly fixed to the mold and then, due to its elasticity, it can maintain its shape for the lifetime of the bag.
Of course, the biggest advantage of recycled nylon is that it is more sustainable and environmentally friendly than the most commonly used bag fabric. It's even better for the planet than natural fabrics like cotton or canvas, which factories often use a lot of water and energy to make.
Recycled nylon is a better choice than nylon for many reasons, the least of which is that it's basically the same material. It does cost more, but the difference is a small price to pay for an increase in sustainability and the end of wasting materials.
Of course, we still have a long way to go to reach a point where we can pat ourselves on the back for using recycled nylon in our bag collections. Our efforts and the efforts of similar companies are just drops in a vast ocean.
But as the call for sustainability and environmental protections grows, so, too, do our hopes that recycled nylon and other recycled fabrics will one day become the materials of choice in the fashion industry.
Do you want to contribute to a more sustainable fashion industry? Check out our sustainable fabrics made of recycled nylon at https://www.igotextile.com/product-category/recycled-nylon-fabrics/