Fabric Buyer's Guide - How to Find Fabric Suppliers + Manufacturers
Are you ready to source textiles for your clothing or accessories brand? Do you need a step-by-step professional guide to sourcing fabrics? I'll teach you how to prepare, stay organized and find fabric suppliers – whether you want to work directly with fabric mills and manufacturers or use an agency. This is the experience and process I have gathered from working in this industry for 24 years!
Preparation for purchase
fabric research
fabric test
Find fabric suppliers
Write an email to the supplier
Get fabric samples
How to choose the best fabric for you
sampling
Technical parameters and screening of fabrics
Your first bulk order
Before you start sourcing fabrics, or even consider contacting fabric suppliers
What do you want to do?
Do you know your product? I can't tell you how many people come to me saying "I want to create a hemp brand" or "I want to create a sustainable fashion line". Um. OK, that's cool. And, I'd love to help you.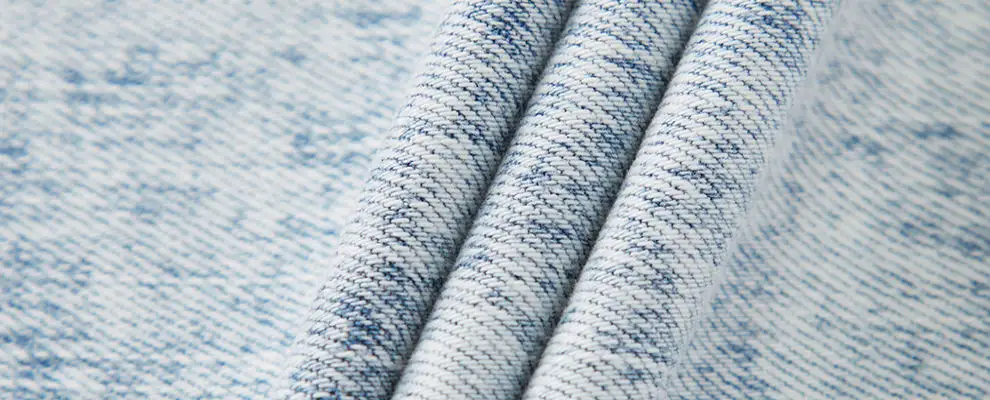 Find your target consumers
You can't be everything to everyone, so start with super focus. So you want sustainable hemp or organic cotton fabrics? Or environmentally friendly fabrics recycled from the ocean, such as those made by SEAQUAL YARN? Do you want to do bag products? Ok…are you doing womenswear or menswear, or maybe something unisex? Are they casual everyday but still want something cute looking? Or, want to go out and wear clothes? Can your clothes do the trick? Or maybe you just want to focus on one thing – like the perfect T-shirt. You need to decide all this before you start. The direction of your brand and the type of product you want to make will determine which types of fashion fabrics you will source.
Tips for finding your target consumers
Did you play football in high school, did you like roller skating, maybe you played in math leagues? The best products, and often the most successful products, are developed by people who understand their industry. Think about what field you've entered, what type of product you want, and use that to help guide you in developing your first product.
Who is your product for?
Please don't say "people who care about sustainable fashion".
Say, for example, we use recycled mineral water bottles to make clothes, and at this point it feels, so what? Nike, Patagonia, even the fast fashion monster ZARA, and the notoriously unscrupulous Walmart, are already doing this.
Do your research
Take the time to find something special and remember that just because something sounds new to you doesn't mean it is. For example, did you know that the darling of sustainable fibers, Tencel, was developed in 1972 under the trade name Newcell! And now, 47 years later, it's finally making headlines thanks to the green wash, but shoppers have actually been wearing this eco-friendly fiber for half a century! So please do your own research.
So, to review
Before you start sourcing fabrics or even consider contacting a textile manufacturer, first you need to know exactly what you are making and for whom you are making it. Before starting product development, take the time to do your research.
If you've nailed your design and are ready to actually make the product, only then can you start working on fabrics.
How to source fabric
A complete guide to fabric sourcing (including email templates).
STEP 1 – START WITH STORE SOURCING
Working with Textile Manufacturers
If you're a beginner in product development, store sourcing is a great way to make sure you get the materials you need without knowing all the technical details and industry jargon. For the more novice or someone with a degree in textiles, sometimes we know what we want. For example, I can look at a shirt and say it's X% cotton, X% linen, the yarn size is Z, and it's woven. However, the reality is that most of you have no way of acquiring this knowledge from less than a decade of accumulated fabric sourcing work. But don't worry, if you follow this guide, you'll be sourcing fabrics like a pro.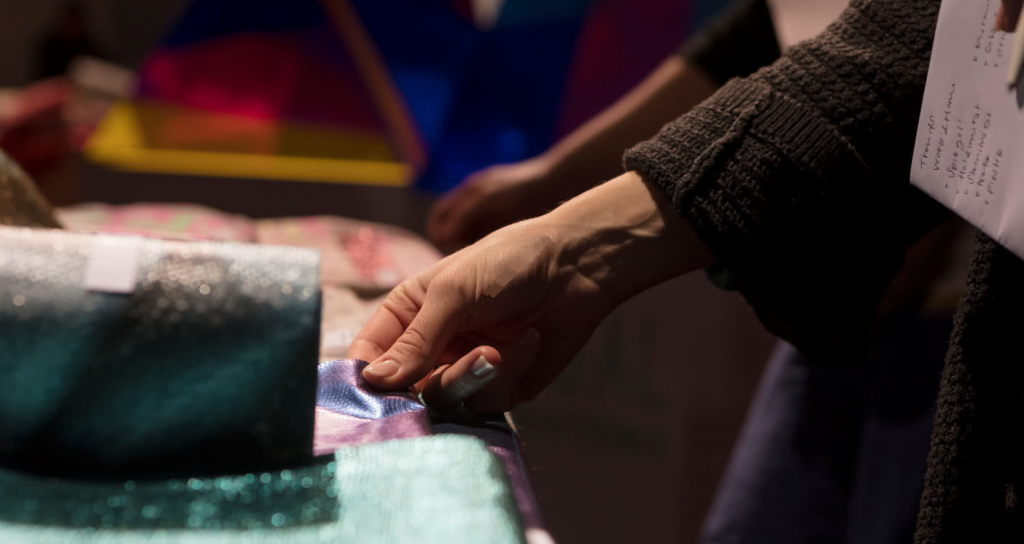 STEP 2 – BUY YOUR FAVORITE FABRIC
How to Sourcing Textiles
Start by shopping at your favorite store, find fabrics you love and want to use for your own brand, hit the market and research your competitors. For example, if you are starting a yoga company. I use this example because about 80% of startup ideas for brands are tied to yoga. FYI, if you want to create a sustainable clothing line, try to avoid yoga clothes and swimwear – because the market is completely saturated and competition is fierce, your chances of success are low. Try to think of something more primitive.
Anyway back to our hypothetical yoga company. You'll want to buy Lululemon, bandier, outdoor voices, etc. (these are mediocre quality in my opinion, and these things soften within 20 minutes of wearing them, but thanks to great marketing, the college's Kids love them), Patagonia or Prana.
Now, when you're shopping, you need to pay attention to two things. Obviously first is the fabric. And, the second is fit or not. Samples purchased from competitors are important to the apparel sourcing process.
Ask a sales representative
Ask the sales representative what styles are selling best. You don't need to tell them you're trying to launch a competing brand. Today, more and more shoppers are asking if the products they buy are selling well and popular.
Store reps are some of the best resources you can find. They understand the product, they see what sells well, and more importantly, they see the return, and more importantly, they see the reason for the return. And, they're around the locker room listening to what customers have to say about fit.
Seriously, sales reps can add so much value to your business. They are the unsung heroes of product development.
Step 3 – Test it yourself
How to find a fabric wholesaler
Test fabrics to make sure you really like them, if you can spot problems with your competitors' products and find solutions to make them better, your brand will have a higher chance of success
Buy some competitor clothing and wear them. Will the fabric eventually come apart? Will it pill? Or, will it lose its elasticity quickly? Maybe it feels hot and wet like you're wearing a plastic bag?
Most importantly, before you ask a fabric factory to supply you with the exact same fabric, make sure the fabric you're replicating is quality first!
OK, have you found the perfect fabric? One that breathes, stretches, recovers, moves, etc. like a second skin? Now, it's time to contact the factory.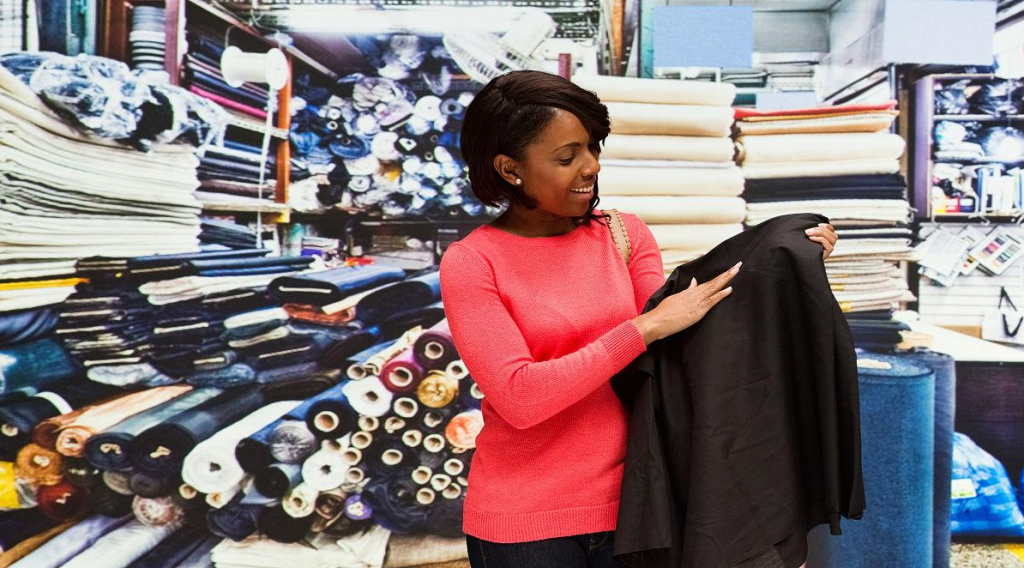 Step 4 – Find a Fabric Factory
How to find fabric suppliers
Once you've found the fabric you want, you need to find someone who can do it for you.
Direct factory
When you source directly from wholesale fabric mills, there are no middlemen. This means you will get the best price. It also means fewer mistakes in communication because you're talking directly to the person who made the fabric. However, from a direct work perspective, these people are serious. You need to have confidence in what you want and how you want it, the factory doesn't waste time on hobbyists.
If you're not confident in your textile knowledge, you might want to consider not working directly with a wholesale fabric supplier, but instead try an agency.
Fabric purchasing agent
An agent will work with fabric manufacturers on your behalf. They are basically a middleman. Agents take a commission from your orders. Therefore, you will not be able to get the best price. However, they are helpful in other ways.
Before contacting the factory for fabric sourcing, a good agent will talk to you in depth to find out exactly what you are looking for. They then advise you on whether what you want is realistic and repackage your requirements into an easy-to-understand statement for fabric manufacturers to use.
Pro tip – most factories don't want to waste time in such lengthy meetings, they want you to come to them, know what you want, and say what you want in as few words and sentences as possible. Think of Kevin in the office.
Why agents don't get ghosted
The first is that the agents have a relationship with the fabric manufacturer. Agents are beneficial because they have a pre-existing relationship with the supplier. They know each other, and in some cases are even friends, and have long-term working relationships. So obviously fabric suppliers trust agencies they've worked with on previous projects over form emails from brands that may not have launched.
Second, time.
Mills knows that agents don't waste time. Agencies come to them with pre-vetted clients and projects. They are usually more likely to make money working with an agency than with some unknown start-up fashion brand. That's why agencies don't suffer, but brands do.
Agents have a network
Instead of working with just one factory or factory agent, work with an agent with a deep network or partner. For example, IGO Textile focuses on fabric sourcing in Shanghai, Shenzhen and Fujian regions of China, and has some partners in Europe. If your product doesn't work in one factory, the dealer has 10 or 20 others who can reach out and find the product you need. This can save you a lot of research and conversion time.
slow sales and market
While agents are usually wholesale fabric suppliers, they do have access to other different types of markets such as slow-moving and overstock. Both places are great places to find cheap fabrics. Agents can also work directly with factories to find deals on defective or discarded fabrics.
Or, have a fabric supplier come to you
If you want to work directly, trade shows are a great place to find suppliers.
Honestly, I would say that factories that are booming business don't really go to trade shows, they don't need to, most of their business comes from reorders and referrals from current customers. Vendors who take the time to travel to places like New York, Vegas and even Miami are looking for new business and may have more time to focus on smaller brands that need more guidance. For this reason, these trade shows are great places to start for new designers and brands.
The fairs will expose you to all kinds of textiles you might need, from velvet and silk to denim and custom cotton prints, making it easy to find what you need at these fairs.
Google is full of factories, (Robert Kaufman, currently the #1 search point), but before you turn to the internet (the wild west of information) to try and find someone you can trust, check out trade shows.
Below is a top pick list of some fabric sourcing trade shows known for having pre-vetted and trusted suppliers.
Textile trade show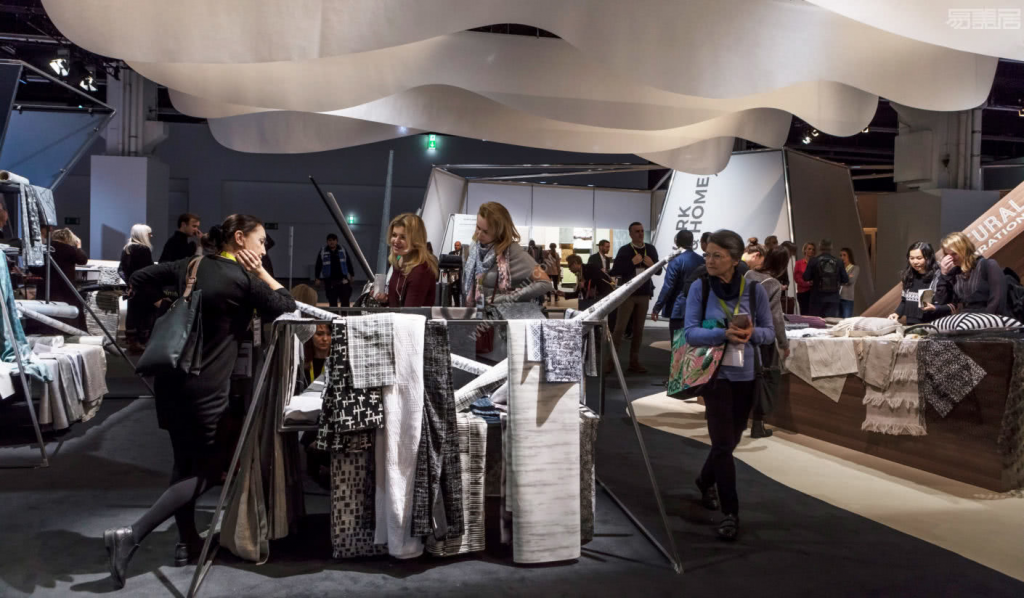 Functional fabric exhibition
"FUNCTIONAL FABRIC FAIR NY, powered by PERFORMANCE DAYS®, is a trade-exclusive event showcasing the latest trends in fabric development for the functional textile industry and sourcing high-performance functional fabrics and accessories for the United States.
The show is free and open to verified designers, product, sourcing or materials managers looking to source fabrics and accessories for activewear, workwear, sportswear and athleisure apparel. "
TEXWORLD
"Join us for one of the largest sourcing events on the East Coast for apparel fabric buyers, product development specialists, designers, buyers and sourcing professionals. Texworld USA is an international business platform, an unmissable industry event offering a wide range of The product range covers the entire fabric collection – participants in each season will find textiles with innovative structures, material mixes and surprising colour palettes.
What to Expect at Texworld USA
Education: We aim to provide ample educational opportunities through the Texworld USA workshop series (organized by Lenzing Fibres) and Textile Talks, our Texworld USA ground meeting program.
Networking: Texworld USA is a dynamic industry event that brings together industry professionals from around the globe.
What's new and trends: Visitors will have the opportunity to learn about the latest colour and textile offerings for the next season or year through the Texworld Showcase.
Diverse Product Groups: With over 16 product groups, the show ensures as many quality, affordable products as possible for all apparel end-uses.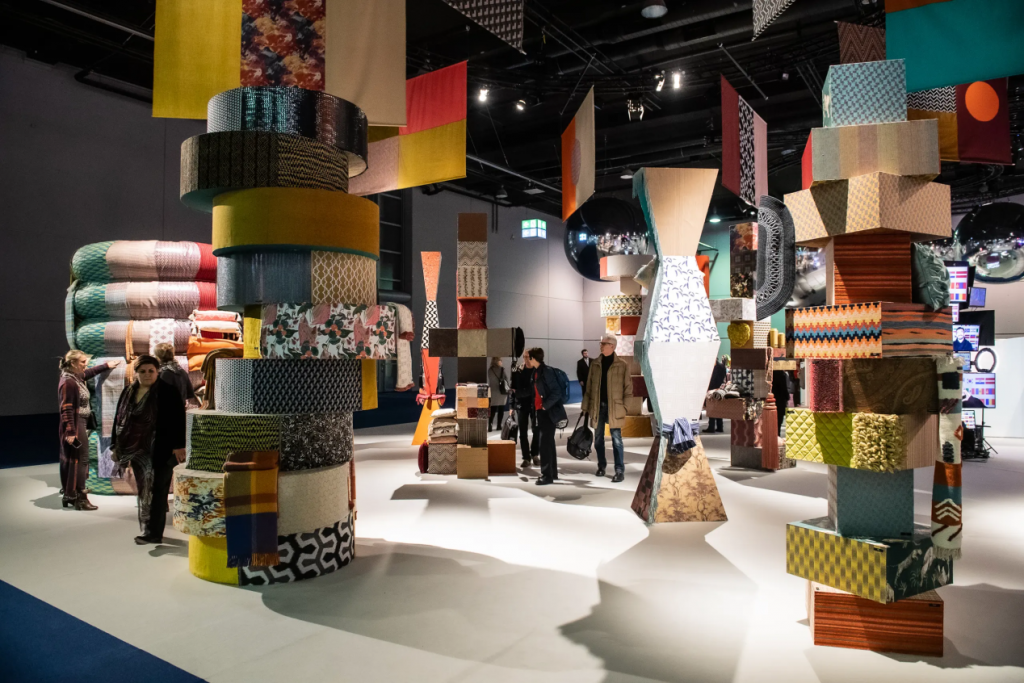 Premiere Vision Paris
"For 3 days, 2 times a year, at Paris-Nord Villepinte, six industries (yarns, fabrics, leather, design, accessories, manufacturing) that provide materials and services to the global fashion industry come together in Paris."
Premiere Vision New York
"For 40 years, Première Vision, a subsidiary of the Association Première Vision and the GL Events Group, has been organizing shows and events for professionals in the international fashion and textile industries. By constantly adapting to the needs of the international market, the Première Vision fashion show always adheres to the same Noble goal: to provide visitors with selective, high-quality and creative products and services, as well as unique fashion information."
PLANET TEXTILES – Sustainable Textile Summit
"Discover the future. Learn about radical new environmental initiatives and business models in the textile supply chain. Learn about trends. Learn how disruptive technologies and financial innovations are creating new opportunities. Meet new leaders.
Sourcing at MAGIC
"In August, all 12 MAGIC shows will be held at the Las Vegas Convention Center. Sourcing at MAGIC is your link to your entire global supply chain. This incredible source of inspiration, education, innovation and resources is The Fountain of Fashion is a must-see destination in over 40 countries, attracting designers, brands and retailers alike to discover what they need to move their business forward."
London Textile Fair – FOR FABRIC SOURCING UK
"With over 470 exhibitors, London Textiles is the UK's premier platform for fashion fabrics, clothing accessories, print studios and vintage clothing.
TLTF offers manufacturers and their agents the opportunity to showcase their products to the most influential UK buyers and designers. The show is one of the UK's top industry events, with growing international appeal.
Location: Commercial Design Centre, 52 Upper Street, Islington, London N1 0QH"
Sourcing Apparel Textiles at the MANA WYNWOOD Convention Center
Back to our yoga branding example. Miami has become a hotspot for swimwear, resort wear and yoga athleisure. If you're looking for these types of fabrics, this is a trade show worth visiting.
"Apparel Textile Sourcing Miami 2019 is more than a sourcing show, it's three days of networking, free workshops and inspiration.
ATSM 2019 connects the Southeast United States, North America, Latin America and the Caribbean with international apparel, textiles and fashion markets.
The 2019 ATSM seminar series focuses on the most prominent themes affecting apparel and trade.
Who are your competitors working with?
The last way to find the mill. Thanks to transparency, more and more brands are listing their collaborators on their websites and social media. Everlane and Madewell are two companies that are known for listing their fabric mills and factories. If you like one of their fabrics, go ahead and contact the factory and ask for the same. Easy, right?
OK, so you know what you want to source, and you've found a fashion fabric sourcing partner you want to work with, now what?
STEP 5 – INTRODUCE YOURSELF
textile sourcing emails
keep your communications quick and to the point
Say hello, and let the factory know a little bit about yourself, your product, and what it is you need from them.
HERE IS AN EMAIL TEMPLATE TO DO THIS.
Hello mill name,
My name is ____________. I am the the founder, product developer, designers, etc of the brand ____________. I found your company through Google, tradeshow, a friend or colleague, etc.
(Now give a little info about your brand, BUT no more than 4 sentences, remember we are all busy people. We really don't care how the idea came to you and your best friend while on vacation in Fiji).
Sentence one:What your brand is making
Sentence two:Your timeline – have you launched? when do you plan to launch? If possible insert a hyperlink to your website here.
Sentence three: What your brand is looking for, and the types of fabrics you need.
Sentence four: Your projected order size. (one of the best ways to get ghosted really quickly by a factory is to tell them you plan on huge orders, and the try to order only a few yards). Be honest. If you are small, let them know – they might be willing to work with you, or sometimes even refer you to someone else that can help you if you aren't a good fit.
Thank you for your time,
your name
website link
social media link
press link
STEP 6 – REQUEST FABRIC SAMPLES
Work with fabric mills
If the factory doesn't answer or doesn't want to work with you, that's okay. Keep sending emails. Ultimately, you will find the right partner.
If they do want to work with you, it's time to send the swatches.
Send your favorite fabric cut to the factory.
And, tell them why you like the fabric. They may not have the exact same fabric that you sent, but they have a very similar one.
When sending samples, make sure to label them clearly. Give each fabric a name or numerical code so it doesn't get confusing. And, always enter a clear list of what you're sending.
Step 7 – View Swatches from MILLS
Find a fabric manufacturer
After receiving your sample, the factory will go into their fabric library, check the fabrics currently running and pick up some similar items. They will then send back to you fabric samples they think may be suitable, based on the original samples you sent them.
FYI, it is your responsibility to pay your own shipping costs here. It is not the factory's responsibility to cover shipping costs for the brand.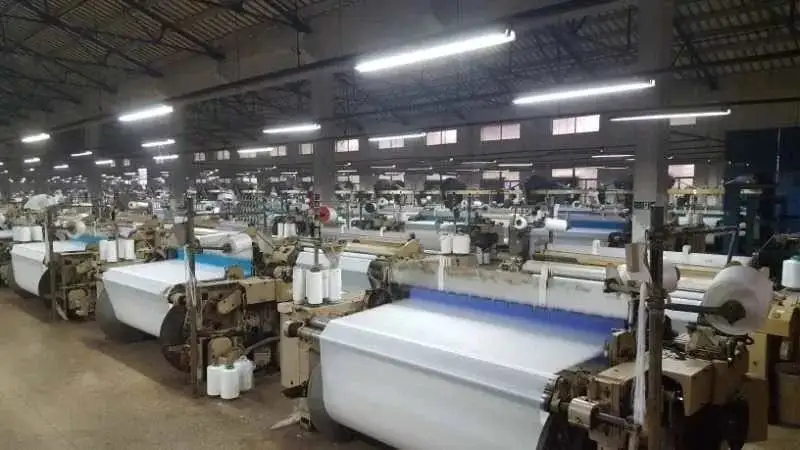 Step 8 Test, sample first
Buy wholesale fabrics
Did the factory send you your favorite fabric? have a test! If the swatches they offer are not what you want, explain to them why you don't like the fabric and ask for more swatches.
Don't be bullied when sourcing fabrics to place an order right away. You should always be able to test your fabric first. And, testing fabrics is critical to the integrity and quality of your products.
A small piece of fabric may look great, but you need to buy a few meters, make a garment and test the performance of the fabric. I have seen many brands skip this step and the result is often product quality nightmares and product returns.
If the factory doesn't allow you to request samples before you submit a bulk order, please don't work with them. There are so many factories in the world that ethical factories always let you sample first. Not allowing sampling is a red flag to run the other way and not work with that supplier.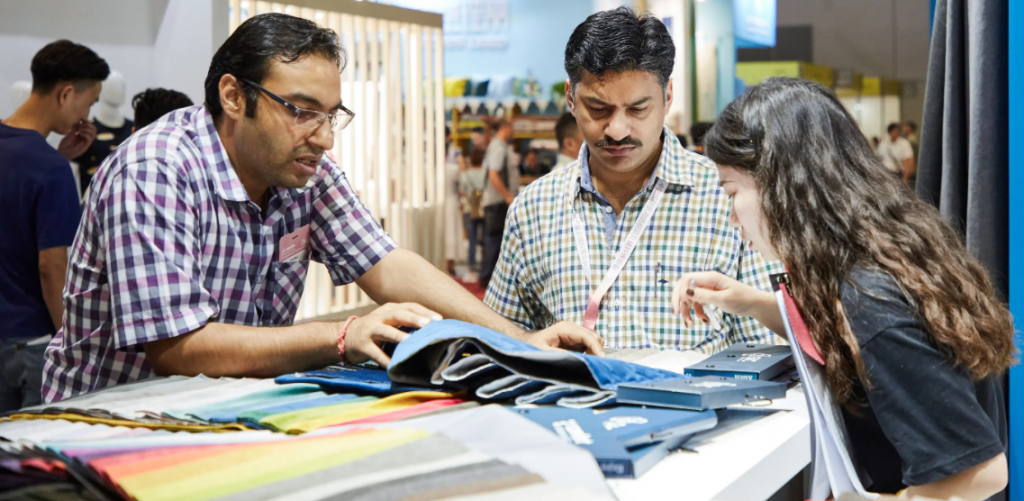 STEP 9 – STAY ORGANIZED
How to stay organized fabric sourcing
You are going to have so many swatches going out, coming in, and information floating around. Stay organized.
KEEP KEY INFORMATION ORGANIZED WITH AN FDS
What's on an FDS? An FDS is a Fabric Data Sheet. It is a quick 1-page form with all of the fabrics crucial information.
An FDS contains the following info.
FABRIC NAME
FIBER CONTENT
The percent of fiber types that make up the fabric
FABRIC WEAVE OR KNIT TYPE
Examples would be plain weave, or 3×1 twill for woven fabric, or jersey for knit fabrics
YARN SIZE
The size of the yarns
FABRIC DENSITY
Yarns per inch (YPI) for wovens, or stitches per inch (SPI) for knits.
SAMPLE MINIMUM ORDER QUANTITY (MOQ)
What is the least amount of meters of fabric you can order in a sample order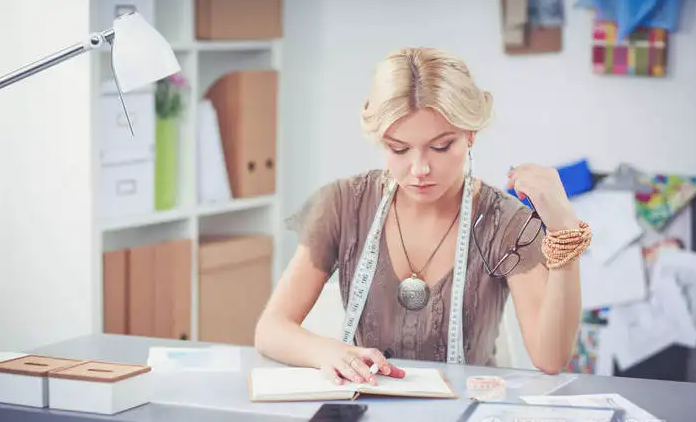 SAMPLING PRICE AND VALIDITY DATE
What is the price, and how long that price is good for? Prices change as the market changes
SAMPLE LEAD TIME
How long it takes to get sample the fabric
BULK MINIMUM ORDER QUANTITY (MOQ)
How much fabric do you need to order for the bulk price
BULK PRICE AND VALIDITY DATE
How long it will take to make and ship your fabric when you place a bulk order
SPECIAL FINISHES OR TREATMENTS
Washes, waterproofing, softening, etc
MOQ Pro Tips
Can't meet the MOQ? Partner and work together. Sometimes you can put together several smaller brands and place an order together to meet the minimum requirements. Or sometimes, the factory makes your "bulk order" a sample order. This helps lower the minimum, but the downside is the higher price. Sample orders are usually 1.5 to 2 times the cost of bulk orders.
Place your bulk order
You have proofed and still like the fabric? Now is the time to place bulk orders for your products. Typically, 50% of the order cost is paid when the order is placed and 50% when the fabric is ready to ship is the industry standard.
If the factory requires 100% prepayment, run it another way. Most likely they are scammers and your fabric will never ship.
Step 10 – Manage your bulk orders
Sourcing fabrics from fabric factories
Bulk fabric orders usually take 1-4 months. Follow up with the factory on a regular basis – for example every 10-20 days, depending on your delivery time. And ask if everything is shipping on time, or if there are any issues that might delay shipping.
Congratulations! you did it!
You have sourced your first fabric!